Two great features are released to help make your meetings easier. First, view any tool (like the V/TO, Accountability Chart, Process, etc.) from any meeting, and second, show external content (from a URL) as a custom section in the meeting agenda.
Webpage Display in Agenda
When you add a custom meeting section to any agenda, the option to display a public, https webpage is now available.
How will teams start using this?
A Sales L10 would like to display worked leads from Salesforce

A Finance L10 would like to show their Tableau, PowerBI or other visual display of data
Of course there are a lot more options beyond those examples!
How to add a New Section & Website to Display
Click on the Meeting Settings icon (upper right gear icon on the meetings page).
Select "Add Section"
Click on the new section
Enter the URL
Reorganize the agenda or make other edits as needed.
When starting the next meeting, visiting the section will display the URL entered.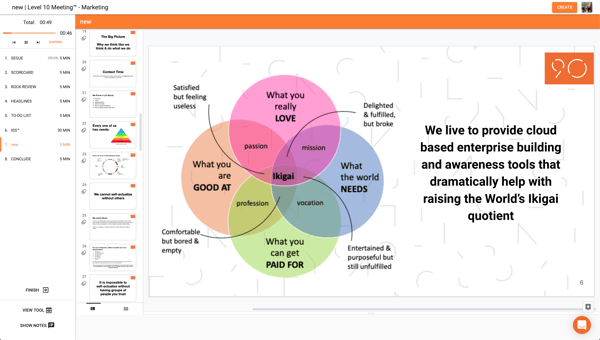 Above is an example of what a Google Slides URL would look like in a meeting. This includes selecting View > Full Screen on the Google Slides menu on page.
View Tool Button
In a Level 10 Meeting™ and want to see the Process section? No problem! "View Tool" is now an option in the bottom right of any meeting. This is a display option that gives you the ability to show/edit the tool like normal, and just click on the agenda item on the left to go back to the normal meeting section.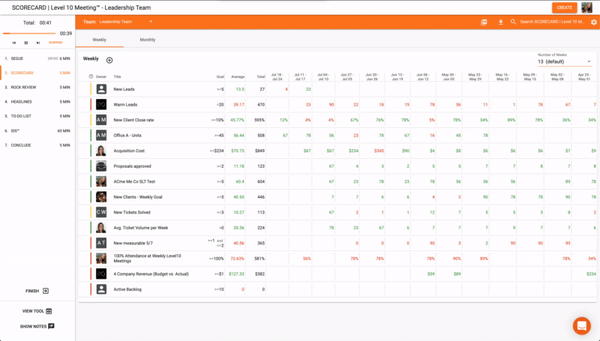 In the above example we are looking at the Scorecard, view the Accountability Chart, and go back to the Scorecard by click back on the left nav.
We would love to hear what you think. Tell us what you would like to see next!
Watch the video for a walkthrough of these updates!