What to Expect:
Current Subscriptions will end, and a new one will begin, this will show up like "trial ending" or asking you to add payment info.

3 additional features below

No action required on your end to keep account open or in trial.
Visit the New Billing Page by either clicking on the person icon, then Billing in the upper right hand corner or by visiting the Billing tab in settings. On this page, you will see the following changes:
Annual Subscription
Switch your subscription to annual by visiting the new billing page, and clicking the gear icon next to Subscriptions.
When switching to annual, you can expect a couple things:
You will get charged for the full year up front.
A 10% discount is applied to your payment.
When you Add a new user, they are paid for immediately, with the 10% discount, and prorated for the remaining months you have left.
When you Remove a user, no price change occurs. You can add additional users up to the previous maximum without incurring additional charges.
You can switch back to monthly payments at the end of your annual term.
Click on the Subscriptions section dropdown to see the breakdown of the amount of users in your account in each tier!
Invoice History
The new billing page has a History section that shows past payments. Right now these date back 6 months, and we will add the ability to scroll to load more.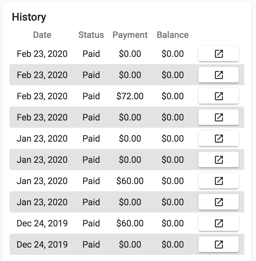 Click the expand button to the far right of each invoice item to open a new tab and download that invoice to PDF.
Because we previously had invoices generating for each subscription level (Free, users 1-25, 36-75 and 75+), if you have less than 25 users, then you will see payments for $0. These are just previous "charges" for $0 from the subscription levels in which you did not have users. Check out the next section to see how we consolidated payments so that any tier of user is now charged with one payment.
Payments Consolidated
Under our new billing structure, when you have over 25 users, the same discount structure remains, but now these charged are pulled at one time so you just get a single receipt, instead of a receipt for users in each of the tiers. Here is a link to our pricing details and structure if needed.
Payment day of the month will remain the same as your tier 1 receipt.
Coming Next...
We've got more enhancements lined up! Soon, you will be able to adjust what email(s) receives receipts, instead of requesting that to be changed through Client Success. You will also be able to pay for multiple companies with one card. This is especially helpful if you have multiple businesses using 90, and you would like to pay for them at once so that users across all companies are counted towards the tiered levels.
Questions about your previous payments or updating to an Annual Subscription? Send us a chat in the bottom right corner or reach out to helpful@ninety.io.